Personal profile
Research interests
Cancer Epigenetics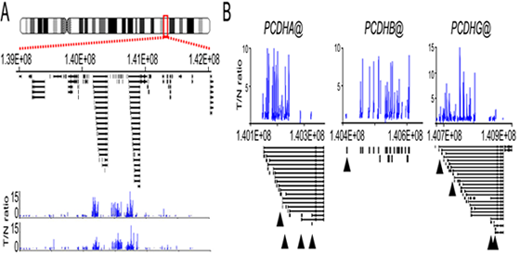 As well as genetic lesions, cancer cells also acquire defects in regulating levels of gene expression, which can lead to their enhanced survival and inappropriate growth. Epigenetics is a key mechanism for regulating gene expression levels, and is dependent on modification of DNA and chromatin by reversible enzymatic modifications such as methylation.
My group are using genome-wide epigenetic analysis of cancer cells to identify novel tumour suppressor genes and oncogenes that may, when deregulated, contribute to tumorigenesis. The functions of proteins encoded by deregulated genes, such as the protocadherins shown in figure 1, are also assessed as this may lead to new therapeutic strategies for cancer in the future. In addition, we are also interested in the developmental functions of such genes within the kidney.
We are also investigating novel drugs that may be utilised in the treatment of neuroblastoma, a paediatric cancer with poor prognosis. By modulating the epigenetic machinery, such drugs may be effective in driving differentiation and/or cell-death of cancer cells (see figure 2).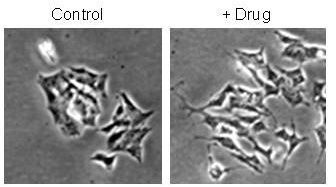 Figure 2. Differentiation of neuroblastoma cells induced by drugs modulating the epigenetic machinery. The treated cells (right panel) show neurites indicative of differentiation.
Group members
Zach Dixon

Kelli Gallacher

Dr Madhu Kollareddy

Dr Marianna Szemes (Children with Cancer UK)

Jake Bellamy (MSc student)

Ji Hyun Park (PhD student)
Enquiries for​ postgraduate research placements (PhD/MRes) are welcome
Fingerprint
Dive into the research topics where Karim T A Malik is active. These topic labels come from the works of this person. Together they form a unique fingerprint.
Collaborations and top research areas from the last five years
Recent external collaboration on country/territory level. Dive into details by clicking on the dots or

Research output
31 Article (Academic Journal)
Legge, D. N.

,

Moriarty, W. F.

,

Lee, D. A.

,

Szemes, M.

,

Zahed, A.

,

Panousopoulos, L.

,

Chung, W. Y.

,

Aghabi, Y.

,

Barratt, J.

,

Williams, R.

,

Pritchard-Jones, K.

,

Malik, K. T. A.

,

Oltean, S.

&

Brown, K. W.

,

28 Sept 2021

,

In: Molecular Oncology. 18 p.

Research output: Contribution to journal › Article (Academic Journal) › peer-review

2 Citations (Scopus)

69 Downloads (Pure)

Szemes, M.

,

Melegh, Z. B.

,

Bellamy, J. S.

,

Greenhough, A.

,

Catchpoole, D.

&

Malik, K. T. A.

,

6 Feb 2021

,

In: Cancers. 13

,

4

,

p. 1-21 21 p.

, 656.

Research output: Contribution to journal › Article (Academic Journal) › peer-review

4 Citations (Scopus)

68 Downloads (Pure)

Szemes, M.

,

Bellamy, J.

,

Melegh, Z.

,

Greenhough, A.

,

Kollareddy, M.

,

Catchpoole, D.

&

Malik, K.

,

23 Mar 2020

,

In: Cells. 9

,

3

,

18 p.

, 783.

Research output: Contribution to journal › Article (Academic Journal) › peer-review

8 Citations (Scopus)

119 Downloads (Pure)